Alan Silverman
Alan Silverman is one of the most respected mastering engineers in the record industry. To date, he has mastered close to 10,000 tracks and garnered credits on 80+ Grammy-nominated and winning records. His work spans all genres of music from dancehall to symphony hall. Known for his dedication to excellence in recorded music, he has earned career-long trust from many of the world's most accomplished musicians.
Vitor Hirtsch (Mastering)
Since arriving in New York from Brazil in 2009, Vitor has been busy in audio production, recording, mixing, mastering and videography. He was the lead mixer of Live Mix at WERS 88.9 FM Boston, where he worked with diverse artists including James Iha, Tegan and Sara, First Aid Kit, Delta Rae, Ra Ra Riot, Milo Greene, Dawes, and many more. After receiving his master's in Music Technology from NYU, Vitor joined the team at Aerial Sound. As a musician himself, he brings a very personal artistry and aesthetic to mastering. Besides working at Aerial Sound, he teaches audio production and works as a freelance recording and mixing engineer in NYC and abroad.
"Spending quality time with music and giving it your full attention is the only way to truly listen.  I feel lucky to work in an environment like Aerial Sound where listening is deeply valued and being diligent is the norm." Vitor
Mike Tierney (Mixing)
Mike Tierney is a Grammy-nominated mixer and producer based in Brooklyn. With his broad background in jazz, composition, arranging, and music technology, he naturally bridges the gap between the art and technology of music, helping creators achieve their sonic goals on their terms. Mike's work has spanned genres including jazz, folk, contemporary classical, indie rock, and everything in between. His list of client credits includes world-class greats Medeski, Martin & Wood, Pharaoh Sanders, Stanley Jordan, Judy Collins, Nobel Prize winner Julia Wolfe, Nels Cline, Alarm Will Sound and many more. Mike is also an accomplished bassist and multi-instrumentalist, and holds a master's degree in Music Technology from NYU.
"Working with other musicians every day inspires me.  It's a privilege and an honor to help artists realize their dreams and to reach listeners around the world."  Mike
Sarah Beilenson (Mastering)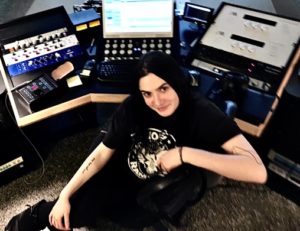 Sarah Beilenson is a mastering engineer, experimental musician, and music journalist.  She's had the pleasure of working on projects with notable artists and producers including OSHUN, PRODA, Michaela Anne, Judy Collins, Nic Hanson and many others.
She earned her BFA from the Clive Davis Institute of Recorded Music at the Tisch School of the Arts, where she studied mastering, audio engineering, music production, and music journalism. Before dedicating her studies to recorded music, she spent three years at NYU's Gallatin School of Individualized Study, where she concentrated on the intersection of art and sound. She completed a minor in studio art, studied the history of electronic music, explored the world of audio for video, and began building her own guitar pedals.
She has worked in studios on both coasts—most notably securing internships at Paramount Recording Studios in Los Angeles and at Avatar Studios in New York.
"I believe in creative collaboration and seeking out like-minded individuals to further dialogues between music and the visual arts. It is this ethos that I bring to my work as a mastering engineer." Sarah